Power TMS Cloud provides one single platform to manage, execute, monitor and optimize all transportation activities throughout supply chains for both shippers and logistics service providers (LSPs). This solution helps companies to maximize service quality, increase customer satisfaction, optimize business process and reduce cost within their global and domestic transportation networks. Specially designed for sharing and collaboration among all stakeholders through supply chain, Power TMS Cloud creates an information network connecting shippers, 3PLs, LSPs, drivers, and end users with mobile internet and smart devices. With various transportation and logistics features and functionalities, Power TMS Cloud allows customers to use the solution to fullfill from basic needs to highly complex requirements.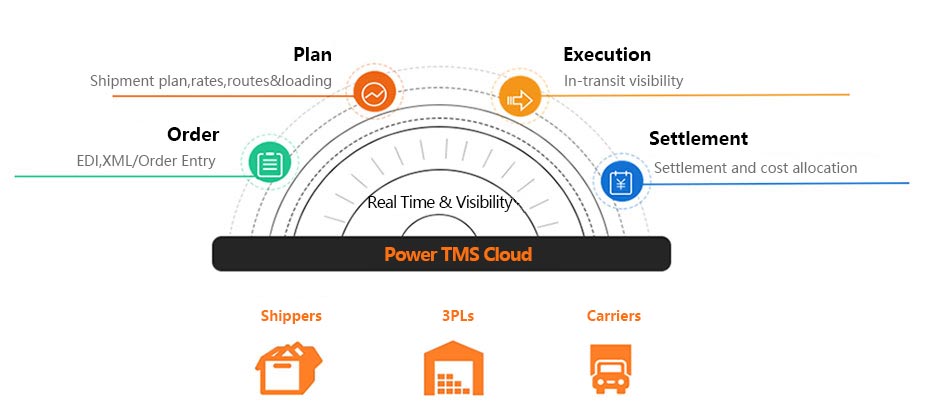 Order Management

Release purchase orders.
Support to import by template.
Can be provided to external (purchasing, ware house and other systems)

Transportation Plan

Support multiple modes chosen: sub-transport, multiple transport, orders-combined transport, etc.
According to the plan, auto resolve optimal scheme of transportation scenarios, to maximum operational efficiency.
Decision support for least cost carrier, mode and service level, application of routing.

Transportation Execution

anage all resource of your fleet. Auto-choosing drivers, transportation equipment, asset tracking and event management. Flexible manual scheduling is also allowed.
The vehicle loading rate will be estimated by the volume and weight of goods.

Track & Trace

Cover all facts of transportation rates, including discounts and surcharge.
Support to manage all rates centrally, including truckload, intermodal, less-than-truckload, parcel, etc.

Settlement

Multiple communication formats support to be chosen – email, web, mobile device, printing sign.
Quick share transportation plans and manage service provider responses.

APP & Social Network

Each part of the transport process is visually displayed on system.
Quick receive status updates from service providers and support multiple communication formats.

Transportation Appointment

Wechat application supports sign, order status, track inquiries and feedback complaints, etc.
Drivers' app displays detail freight orders assigned, confirmation time of nodes. Also supports automatic positioning(GPS/LBS), delay events report and upload pictures(receipt or abnormal).

Fleet Management & IoT

Supports cost sharing, calculates the gross margin for each order.
utomatically calculates freight bill payment, creates the payment voucher, receipt of payment.

Business Intelligence

Standard reports and documents creating, including: Projected Late Orders, Bill of Lading, Commercial Invoice, and Packing List, etc
Automatic KPI data summary and analysis. Appraising the transport process for facilitating the optimization of the complete supply chain
Dock Management

Based on information of transfer, equipment, storage location and transfer order. Improve the efficiency of dock management.

Warehouse Management

Integrated WMS cloud system, manage in-out stock and monitor inventory.

Route Optimization

Integrated third party planning engine. According to the cost and time limitation, optimizing transportation route.

Big Data

According to the owner and 3PL transport data, provide logistics index, Supply Chain Finance and other data analysis.