Manufacturers, suppliers, new retailers and third party logistics can quickly respond to changes in supply chain inventory caused by market fluctuations and improve customer service levels through using a public WMS Cloud platform. Visualization through the whole supply chain process, integrating warehouse resources and optimizing the entire supply chain network, can realize warehousing and logistics cost savings.
Quantum's WMS Cloud is a professional SaaS warehouse management solution, designed with years of industry experience. Business processes and business rules can be configured flexibly and can be seamlessly integrated with major logistics operation equipments. It's the first solution in the market that integrates mobile and social technologies for various business partners to work together. WMS cloud can be delivered quickly, without additional investment in hardware and maintenance costs.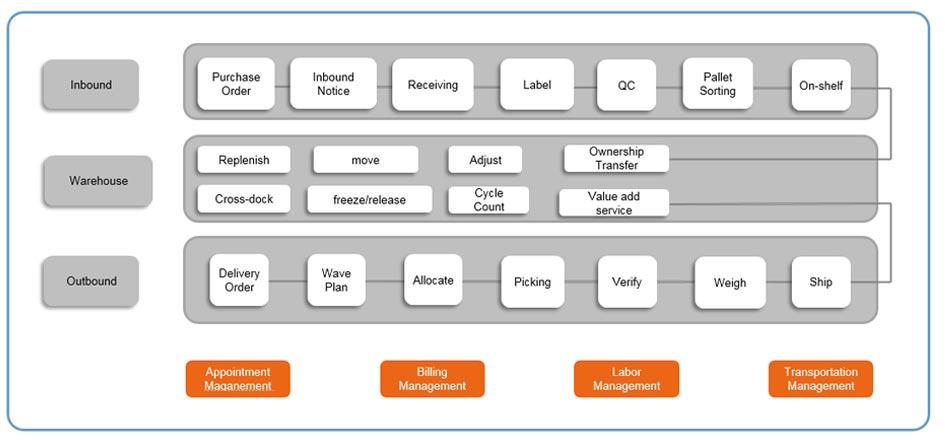 Inbound Management

Support a variety of receiving methods, such as by pallet receipt, box-level receipt, goods receipt, or serial number receipt. Receipts can be flexibly set to track batch number, date of production, origin and other batch properties.
Through customized put away rules and strategies, the system will recommend the appropriate location for put away intelligently.

Inventory management

By location management of Quantum WMS Cloud, inventory can be displayed by different dimensions such as batch / location / pallet / box number and inventory visualization can be realized by graphical user interface.
It also supports daily location movement, inventory adjustments, and inventory transfer by changing inventory batches.

Outbound management

Support a variety of picking strategies, such as picking by order or by wave. Through the turn over rules setting, it supports various inventory turn-over strategies, such as first-in-first-out, last-in-first-out, first failure first-out.
Through the flexible allocation rules to achieve the shortest picking path to improve the efficiency of picking.

Value-added services

For some requirements of processing in the warehouse, the system can support various value-added services, such as labeling, customs clearance, package changing, Kitting assembly and disassembly and so on.
The assembly service can be supported by a fixed BOM / assembly, as well as a flexible components and sub-components relationship specified during processing.

Labor management

With built-in task assignment rules, labor management supports task assignment according to region and task type.
The system provides warehouse electronic billboards to show the overall order execution status. It can also be used to assess users, team performance by work load and generate statistics reports automatically.

Barcode management

Full bar code management, including bar code, two-dimensional code, RFID.
Through the barcode management of work unit, location, work order and instructions, the using of wireless handheld, it can achieve paperless, automated operations to improve efficiency and accuracy.
System Integration

By seamless integrating with a variety of mainstream warehouse operation equipment, such as RF, electronic labels, WCS, AS / RS, it helps customers to build automated high-rise warehouse.

Warehouse Platform Appointment

Through the platform management and supplier booking, available platform resources can be shown in a graphical interface. It supports inbound platform appointment and outbound platform appointment. Some inefficient operation, such as queueing and waiting in the warehouse can be avoided.

Distributor Inventory Management

For distribution industry, every single product can be managed by adopting barcode management system. For those categories need barcode tracking, it supports products flow tracking including the main warehouse, outside warehouse, as well as the distributors' side.

Supply Chain Finance

By integrating WMS system and financial platform, companies can use inventory pledge to obtain financing, and inventory supervision, inventory lock and unlock are also enabled by the system. WMS can achieve financial logistics control for shippers.